Technology is a wonderful thing, and many of us take for granted the convenience that technology provides in our lives. Technology can be used to help us achieve many things. It can provide entertainment, information, and inspiration.
For many people, technology has become a necessity. This can come apparent when a person is first introduced to a new online service or product and immediately starts spending time on it instead of other activities they normally enjoy. But what happens when someone is too attached to their devices?
What Is Technology Dependency?
Technology dependency is the act of spending more time on a specific activity or object because it provides gratification in the form of entertainment, information or exercise.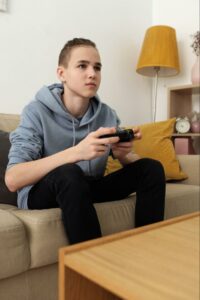 In particular gaming disorder, now recognized as an official condition by the World Health Organization, is rising with the general population's greater access to the internet and technology. In a 2020 study conducted by Brigham Young University, researchers found that 90% of gamers do not play in a way that is harmful or causes negative long-term consequences. However, a significant minority can become addicted to video games and as a result can suffer mentally, socially and behaviorally.
There is now an obvious need to provide more insight into the topic of technology dependency and how it can affect us in our daily lives.
Why Does Technology Dependency Matter?
While technology has unlocked countless opportunities for growth in terms of medical interventions, entertainment, and improved daily life, it can be easy to overindulge.
A collection of neuroscientists published their findings with the NCBI outlining the brain health consequences of technology use, and the emerging data suggest that constant technology use impacts brain function and behavior in both positive and negative ways. For example, the following table suggests positive impacts of technology use for the older generations.

Negative effects and symptoms are outlined in the following section.
Technology addiction has been documented in adults as well as children and can manifest itself in a wide array of problematic behaviors including poor decision making, excess spending, substance use, and even violence.
People may find themselves developing an unnatural attachment to technology, thereby becoming dependent on it in their day-to-day life. Many people affected by this issue are not even aware of it until it begins to affect their life in a tangible, negative way.
The Symptoms of Technology Dependency
The dependency on technology, the internet, and video games can carry significant negative symptoms and effects. While the list is varied, many affected will not experience all of these effects and symptoms. Examples include and are not limited to:
Sudden mood changes
Obsessive focus on the internet, social media, or gaming
Neglect of one's social life, work, school, or professional lives
Excessive amounts of time spent online
Withdrawal symptoms when not using the internet or technology
Changes in sleeping patterns or a lack of sleep
Compulsively checking text messages or notifications
Losing interest in aspects of the person's life that don't involve the internet or technology
Feeling guilty or getting defensive about time spent online
Relying on devices to improve their mood, experience pleasure, relief, or sexual gratification
Failing to cut back on screen time or time spent online
Physical symptoms such as carpal tunnel syndrome, headaches, weight gain or loss, vision changes, and back or neck aches.
Put Down Your Devices
Stay tuned for further blog posts to help you and your family cope with technology dependency. While technology can affect your life in negative ways, we look forward to providing you with resources and solutions.
Find more information on creating a positive technology balance and developing healthy media habits with helpful resources with Digital Detox 101, an ongoing educational effort by the Montgomery County Prevention Coalition.